Everything you need to know about DS 7 Crossback. Is it worth buying?
The brand new DS 7 Crossback is a compact SUV and is one of the most beautiful cars on this planet. Since the split of the DS from Citroen, the stand-alone brand faced so many challenges building its value from the ground up. As of now, this is considered to be one of the top-end brands that offer very premium and exquisite features all around the world.
The new DS 7 Crossback has so many promising features that give you an all-around mind-blowing and phenomenal driving experience. The brand made some powerful statements to earn its place in this competitive world all around the automotive market. Let's dive in to see what this car has to give to us.
DS 7 Crossback Features
This incredible car is considered a large SUV as it features a distinctive, prominent, and staggering front grille, broad air intakes, and a high waistline. The French installed a camera at the front of the high-end and premium variation of this car that reads the roads and performs a lot of magic and puts you right in a comfortable position.
Features like this have only been seen in premium cars. You could go for the all-wheel-drive if you choose to go for the plug-in hybrid model. It performs well against its competitors like BMW X3, Audi Q5, and Mercedes-Benz GLC.
Exterior
The exterior of this car is worth every penny; it's not all about the looks when it comes to the body; the functionality features it offers are mind-blowing and rare. The unique features that we don't see in cars lately. This performance line from DS features 19-inch alloy wheels. Along with some high-quality tweaks that give a subtle and sporty character to your driving.
At the front, you'll witness some mind-blowing features inside the Active Led Headlights. There are rotating diamond modules featuring animated 3D functionality and an LED projector.
The system comes with the ability to adapt its lighting with the road; it gives you that additional comfortable feel. There are several options available for the intensity of the lights that include, Town Beam, Country Beam, Motorway Beam, High Beam, and unique Adverse Weather Bea. They activate whenever you activate the wipers. Considering these facts, this car is quite good.
Overall, the exterior looks promising with the high-tech features in headlights and taillights. It's undoubtedly the car you could show off to your friends at the office and feel good about yourself.
Interior: DS 7 Crossback
This car has one of the pretty and exquisite cabins that you'll ever see in a car. There's a lot of work going on once you sit in the car. You'll witness a bunch of geometric patterns inside the cabin, a bank of switches, a lot of different beautiful materials. Having said that, the interior looks very promising, it is very well put together, there's a soft touch to everything, and it's all coming together very nicely. Everything about the cabin is top-notch except some of the odd scratchy plastic.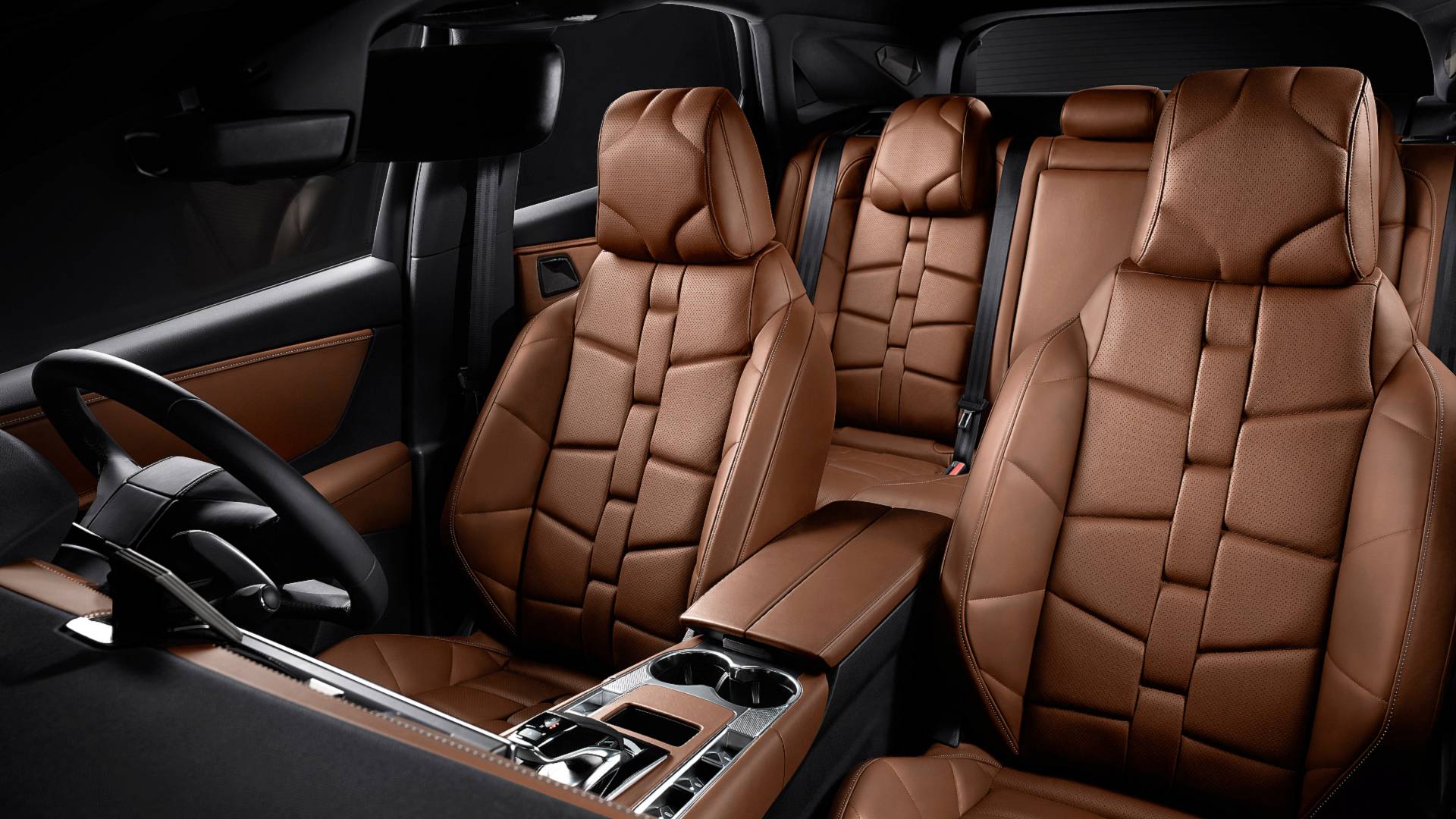 Trims of DS 7 Crossback
The brand came offering us four trim levels that feature different quality aspects. The Elegance gets 18-inch alloys, rear parking sensors, keyless start/stop engine capability, and the very high-end and exquisite 8-inch infotainment touchscreen. As far as the software is concerned, some consumer reviews depict it to be hard to get around with. But once you know what you're doing, it does work quite well.
The Elegance (Entry-Level) trim comes with an attractive and appealing 12-inch touchscreen placed at the center of the dashboard. You can also find it in Peugeot 3008 and 6008. It gives a pleasant feeling and offers a very exquisite quality of graphics.
This car looks sharp from the inside, and it's quite distinctive from its competitors in a good way. All of these trim levels include a BRM clock in the middle. It smoothly glides up once you start the car and gives DS a classic touch yet very gimmick.
You'll have a sporty flavor if you choose to go for the Performance line. This trim features the high-end stuff, Alcantara on the seats, the dashboard, and the door panels. Also, the front parking sensors, heated front seats, futuristic tech features in the shape of the infotainment system, and sat-nav. And if you move another step towards quality. You can also get an intelligent scan system for suspension with tinted windows and 19-inch alloy wheels.
The luxurious feeling gets more and more as you move up the trim levels. Inside the prestige level, you'll witness the crystal controls around the interior, reversing camera with front parking sensors, and wireless charging for your compatible smartphones.
Things certainly do not end here, the ultra prestige is even better and the most beautiful car ever. It features a panoramic sunroof, leather seats, cameras that give you a 360 view. Besides all these high-end features, the cabin is quite spacious for you and your family. It features decent-sized cup holders indoors and at the center.
Considering all these factors, we can say that the future of DS looks promising.
Driving
The DS 7 Crossback feels marvelous and very comfortable to drive around considering all the high-end features in its interior and some futuristic tech to assist the engine while driving. This year, the performance line is offering us six engines. All of them perform exceptionally well in their respective aspects.
The list includes variations with a 1.2-liter engine that delivers 129 horsepower, a 1.5-liter engine with 128 horsepower, there's a 2.0-liter diesel engine with 178 horsepower, and better than all of these, and the very high-end E-tense with a plug-in hybrid engine that also features all-wheel-drive with an impressive 297 horsepower. Let's take a look and see what they are offering this year.
The First SUV to ever hit the market from the French manufacturer is performing exceptionally well for a company to build from the ground up. It looks like the DS has put a lot of focus on comfort driving as it features the active scan suspension system which you probably witness in the Mercedes S-class. This technology continually gathers the data and reads the road and adjusts the level of suspension as required.
Handling
It's effortless to drive, the steering gives you an excellent grip over your vehicle and makes the ride very easy. There's no exaggeration and no fuss with the 8-speed automatic gearbox. As we have previously discussed different trim levels and their engine specifications, the 178 horsepower takes you from 0 to 62 Miles per hour in 9.4 seconds which is very quick for a family car.
Still, its rivals like Q3 and X1 managed up to break this record by reaching 0-62 MPH within 7.6 seconds. But when it comes to the hybrid version of this car, it does not disappoint. The 1.6 -liter turbo engine offers 300 horsepower and dual electric motors and it can get you 62 miles per hour within 5.9 seconds.
Boot Capacity
The DS 7 Crossback offers great practicality when it comes to the Boot Capacity of this family car. It's humongous and has 555 liter worth of space with all the seats in place. And if you fold the rear seats, it is mind-blowingly huge as it offers 1752 liters. So, a lot of space for you and your family if you decide to go on camping.
Pricing
The price for each model varies from the Elegance BlueHDi 130 5d with £28 095 to Ultra Prestige Puretech 225 with £43 190
Running Cost
If you choose to go with the diesel engine models featuring 128-bhp and 178-bhp, they are the most economical as they return an appealing and impressive 55.3 MPG. The front-wheel-drive is just ahead of the Audi Q3 2.0-litre with the unique 40.4 MPG, the emission of CO2 is 137g/km, and it's almost the same for its petrol engine lineup.
Safety Features: DS 7 Crossback
Some very futuristic features guarantee your safety as well as offer you an exceptional driving experience. This beauty features a special dedicated camera at the front that scans the road and analyses the data. It adjusts the most efficient and comfortable car settings that give you a ride free of all the trouble like bumps and other imperfections. This series of cars features rear parking sensors to ensure your safety and the lane-departure system that keeps you on the right track all the time.
When it comes to the DS 7 Crossback, the exterior is all about the looks, it's quite elegant, classy and it offers an exceptional and beautiful driving experience. We can anticipate that the future of DS is in safe hands and they'll soon hit the market worldwide with these exquisite cars with quality driving experience. What are your thoughts on this beauty, let us know in the comment section down below.